STAR TREK
COLLECTORS WATCH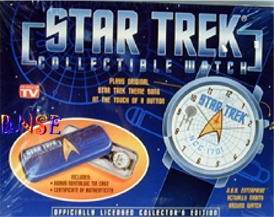 OUTSTANDING CRAFTSMANSHIP

Star Trek® U.S.S Enterprise collector watch
is so detailed and impressive, you feel that you really can "Boldly go where no one has gone before."
Inspiring, realistic details on watch and Bonus nostalgic tin case, comes with a certificate of authenticity.
Plays the Original Star Trek theme song at the touch of a button. U.S.S Enterprise actually orbits around the watch.
You will be the envy of all STAR TREK fans with this one of a kind collector's time piece.