Annette Funicello "Mousekebear"
Extremely Rare Mint condition in Original Box
The Mickey Mouse Club (1955-1959), Original Mouseketeer since 1955, Annette Funicello created the Mousekebear, Authorized by Walt Disney.

Annette Funicello Mickey Mouse Club Bear
Exclusive Disney collection and is a fully jointed 10 inch tall bear was created by Annette for her dedicated fans who have followed her throughout her career.
Mousekebear is made of soft golden mohair and has luxurious tan velveteen pads. Annette's Mousekebear has duo tone black and
brown safety eyes and a hand stitched nose and mouth.
The t-shirt is carefully embroidered with the official "Mickey Mouse Club" logo. No Mousekebear would be complete without those famous "Mouseketeer ears", which made Annette so popular.
This bear was designed by the l.l. knickerbocker company in collaboration with Annette Funicello, especially for the Annette Funicello Bear Company.
Mousekebear is distinguished by a signature pin designed by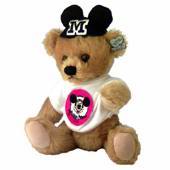 Annette and is a limited edition bear, hand numbered on the certificate enclosed. Signed & certified by Annette Funicello.
Mickey Mouse Club Bear Limited Edition only 2,500 ever made