MIKE SCHMIDT 
1980'S DESK SET
VERY HARD TO FIND ITEM
MINT CONDITION NEVER USED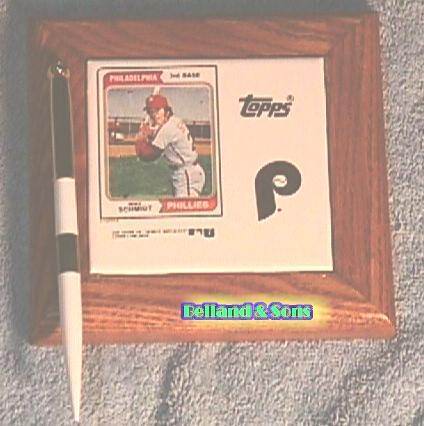 CERAMIC TILE HAS COLOR REPRODUCTION
 OF TOPPS TRADING CARD WITH GOLD TRIM
6 1/4 INCHES SQUARE
HEAVY STAINED REAL OAK FRAME,
PEN AND HOLDER.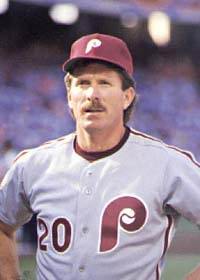 Considered by many to be the greatest third baseman to ever play Major League Baseball, Mike Schmidt was a three-time National League Most Valuable Player and the finest Philadelphia Phillie ever, according to a 1983 vote by Philadelphia fans.
He ranks seventh on the all-time home run list with 548, and he led the NL in home runs a record eight times (only Babe Ruth led his league more often). Schmidt blasted 30 or more home runs in a season 13 times, a figure surpassed only by Hank Aaron, and he reached 35 homers 11 times, more often than anyone but Ruth. In addition, Schmidt hit 509 of his home runs as a third baseman, including 48 in 1980, both records for the hot corner. The 1980 season was full of outstanding performances. Mike Schmidt led the league in home runs with 48 and in RBI with 121 and was named the Most Valuable Player.
Schmidt was as impressive with the glove as he was with the bat: He won 10 Gold Gloves, more than any third baseman except Brooks Robinson. He led NL third basemen in assists seven times, a record he shares with Ron Santo. 
Schmidt won his seventh and last home run crown and his third and last MVP award in 1986 after slugging 37 homers and driving in 119 runs. Another Phils legend, Steve Carlton, was released in June, while Hayes had a fine season, batting .305 and driving in 98 runs.
In 1987, Schmidt hit the 500th home run of his career off the Pittsburgh Pirates' Don Robinson.
Schmidt retired on May 29, 1989, with 548 home runs.
 In January 1995, 
he was a near-unanimous selection to the 
Baseball Hall of Fame. 
He was inducted on July 30, 1995.