AN EAGLE SCOUT COURT OF HONOR WAS HELD AT
ST ANN'S CATHOLIC CHURCH, DEBARY FL ON 07/10/2005.
JOSEPH FRANCIS BELLAND, NEW EAGLE SCOUT.
TOOK THE OATH, PROMISE, EAGLE SCOUT CHALLENGE,
AND EAGLE CHARGE OF A NEW EAGLE SCOUT
FOR GOD, COUNTRY, AND THE EAGLE SCOUT BROTHERHOOD.
THE HIGH RANK OF EAGLE SCOUT IN THE BOY SCOUTS OF AMERICA.
PAUL E. CARTIER, SR
AMERICAN LEGION POST 127 PAST COMMANDER
JOSEPH F. BELLAND, FIRST SCOUTMASTER
TROOP 599 DELAND FL
&
AMERICAN LEGION DISTRICT 17 C.O.R.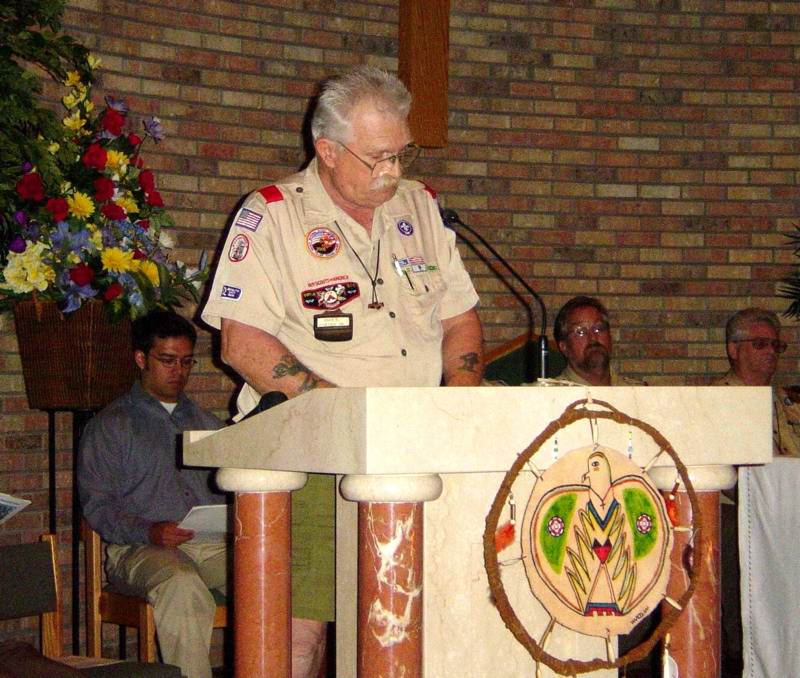 L-R BACK ROW BRANDON, GEOFFREY, CHRISTIAN (ALL EAGLE SCOUTS)
L-R FRONT ROW VICTOR (LIFE SCOUT WORKING ON EAGLE),
EAGLE MOTHER MARY JANE, NEW EAGLE SCOUT JOSEPH FRANCIS, AND
FRANK
THE CELEBRATION CAKE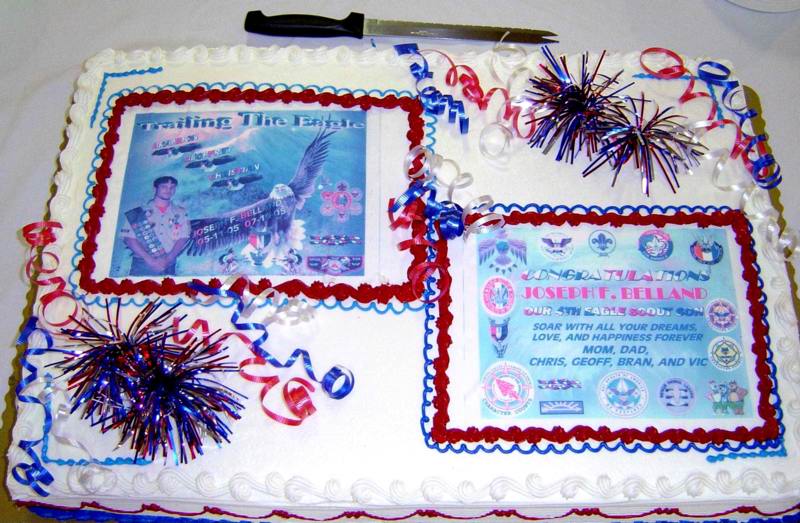 PINNING THE EAGLE SCOUT METAL
SCOUTMASTER PAUL E. CARTIER, SR.
ON JOSEPH F. BELLAND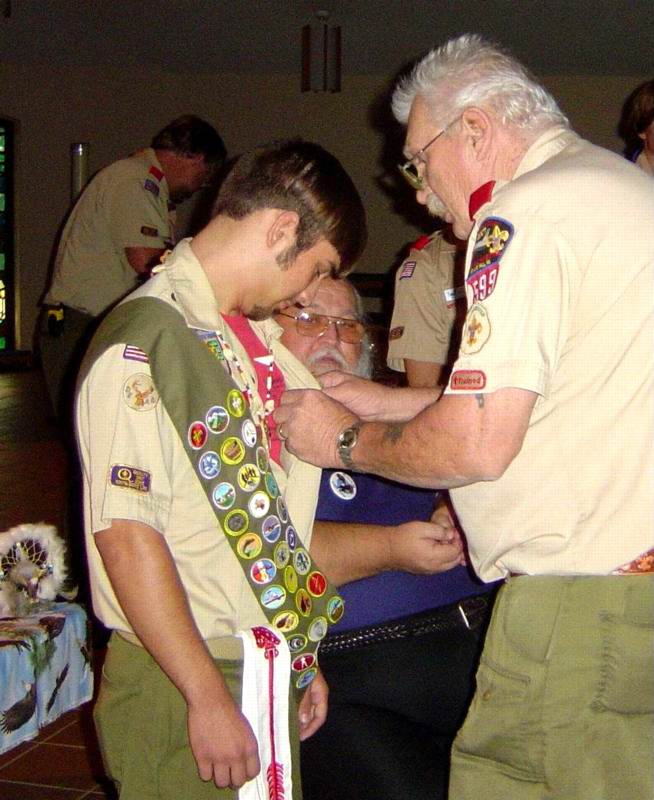 TAKING THE OATH OF AN EAGLE SCOUT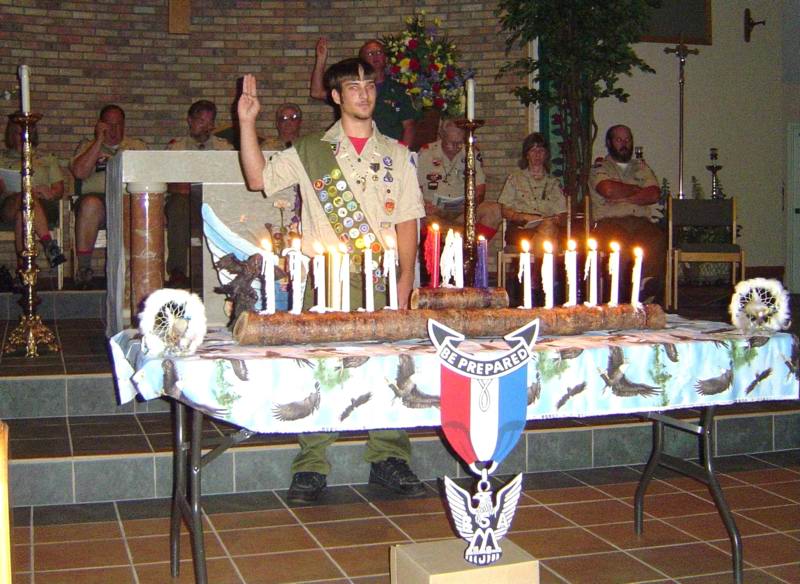 THE BELLAND'S FOUR EAGLE SCOUT SONS
L-R BRANDON, GEOFFREY, JOSEPH, CHRISTIAN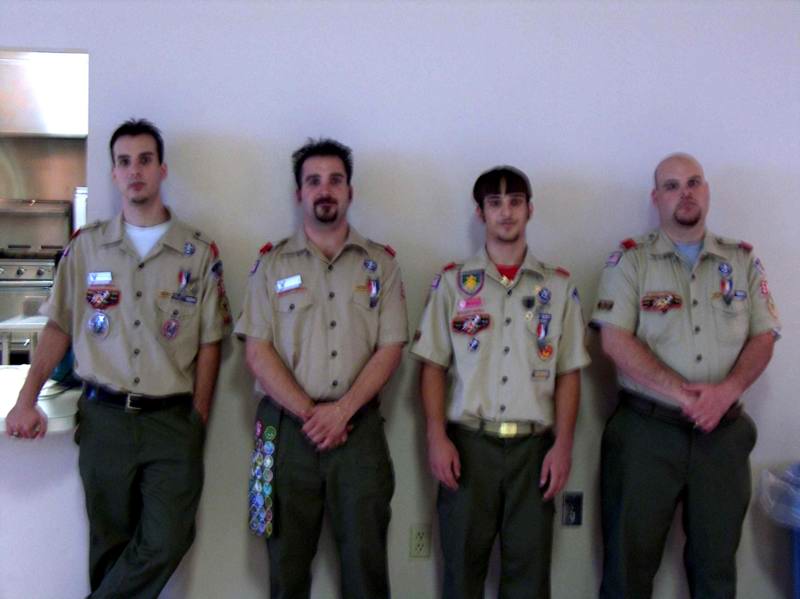 JOSEPH FRANCIS BELLAND THE FOURTH EAGLE SCOUT IN THE
BELLAND FAMILY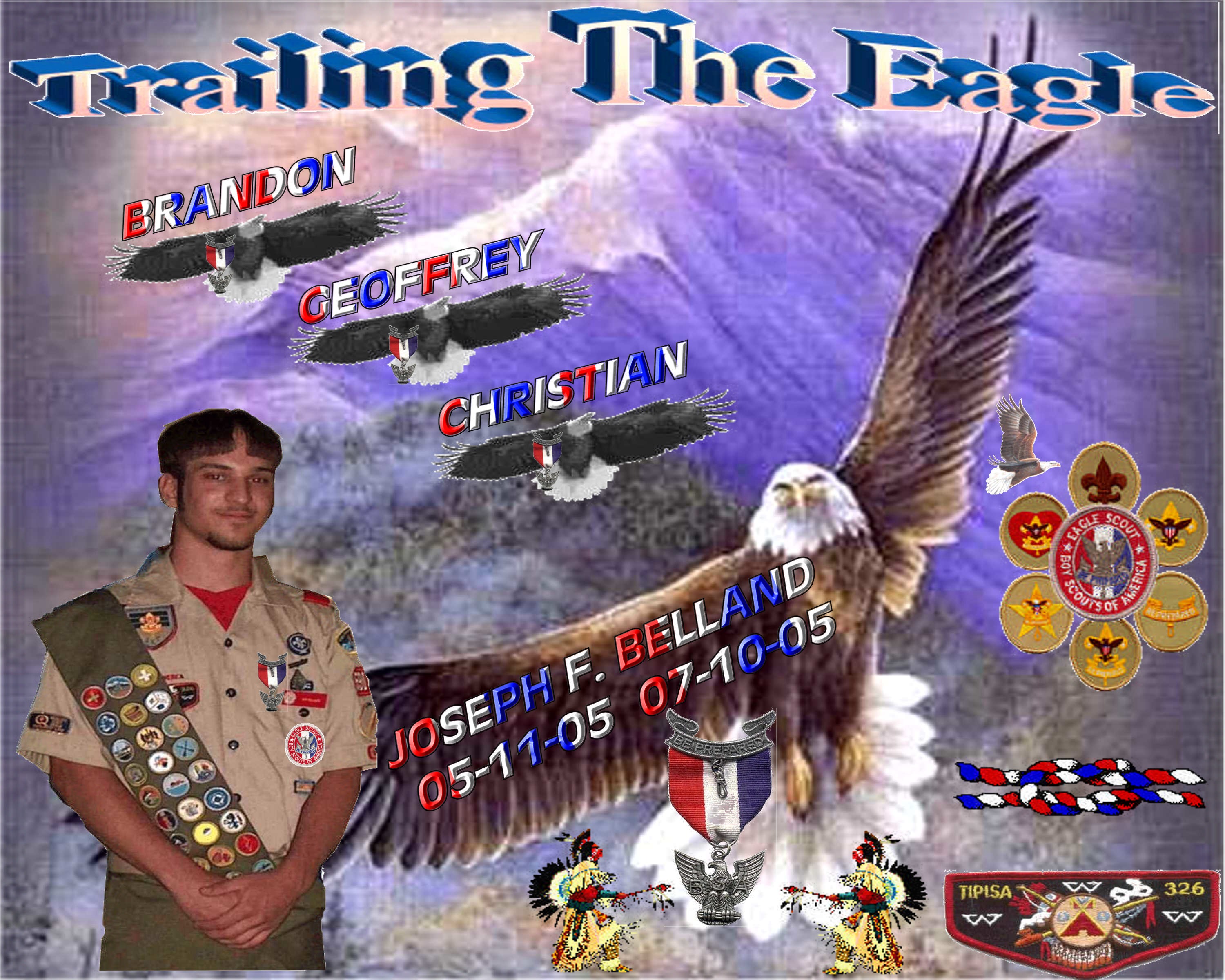 JOSEPH FRANCIS BELLAND
TRAIL TO EAGLE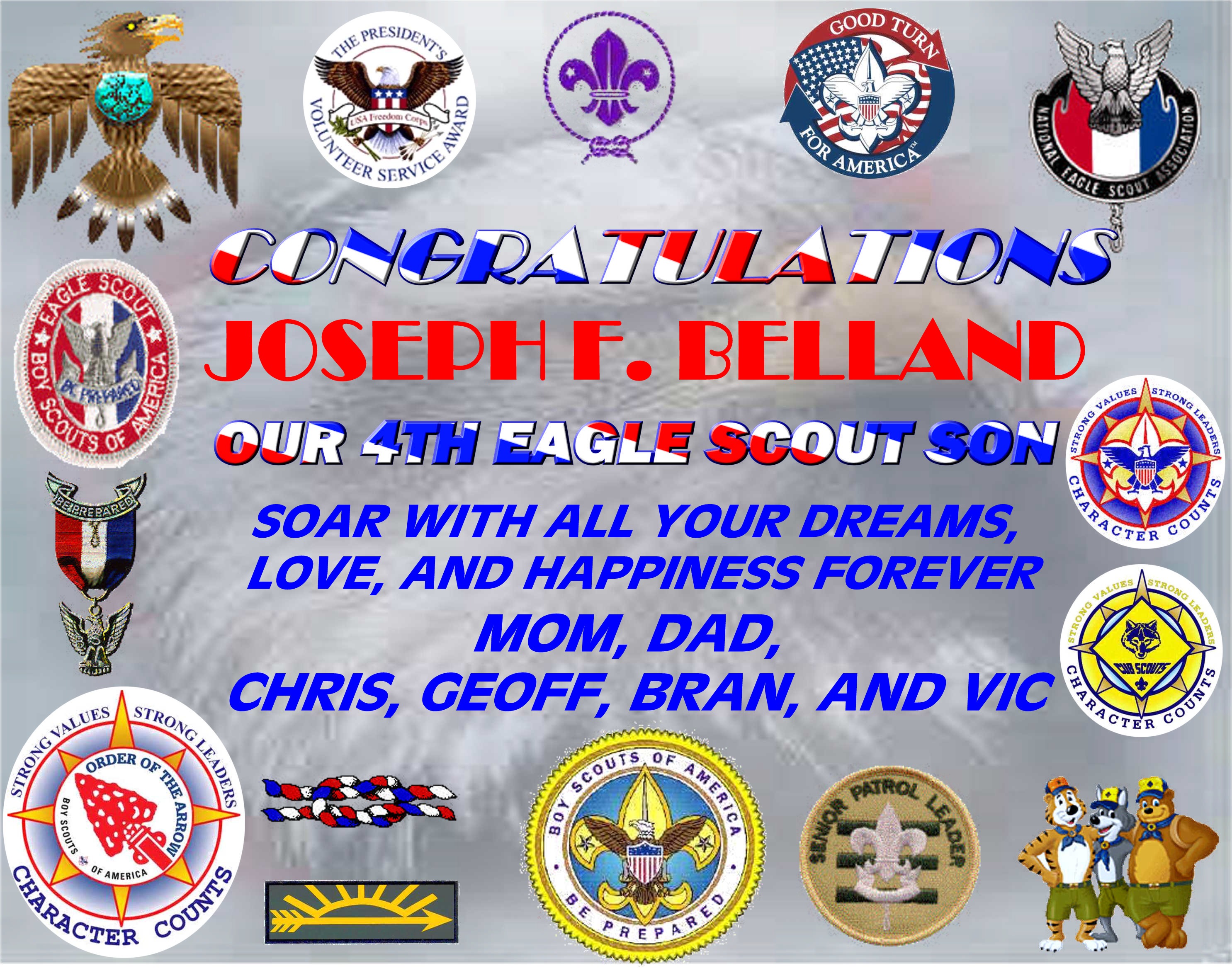 JOSEPH'S HONOR GUARD
L-R GEOFFREY, JOSEPH, & CHRISTIAN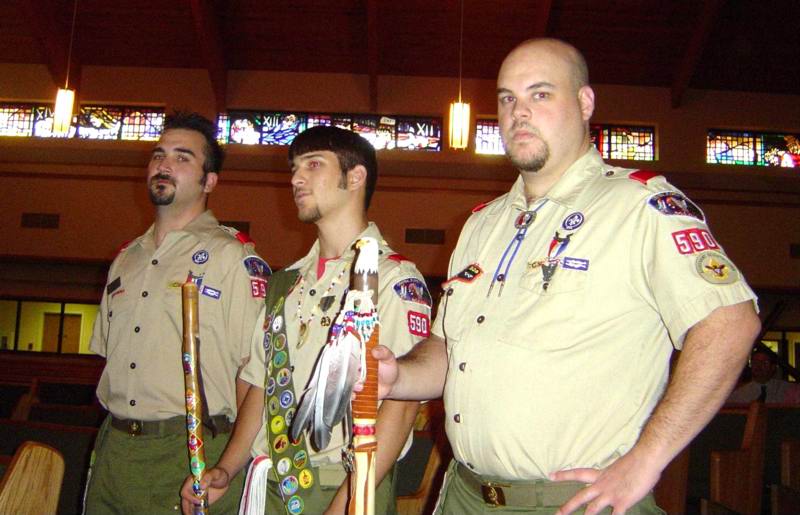 JOSEPH RECEIVED THE PRESIDENT OF THE UNITED STATES
BRONZE, SILVER AND GOLD AWARD FOR VOLUNTEER SERVICE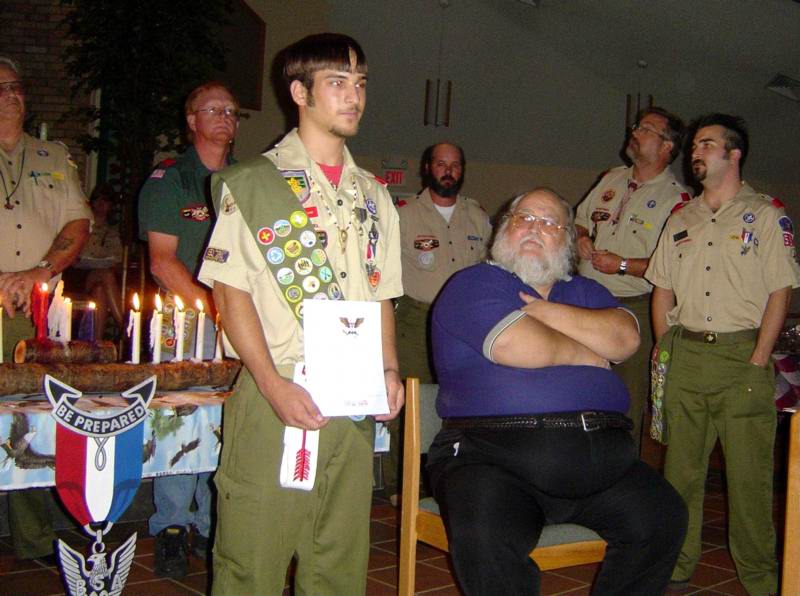 AWARDS RECEIVED AS EAGLE SCOUT CANDIDATE

AND EAGLE SCOUT:
L-R TOP ROW PRESIDENT AWARD BRONZE, SILVER, AND GOLD,
BSA GOOD TURN AWARD, NATIONAL EAGLE SCOUT ASSOCIATION
AWARD FOR EAGLE SCOUT PROJECT FOR THE HANDICAP
L-R BOTTOM ROW AMERICAN DISTRICT 17 AWARD OF MERIT WITH GOLD METAL,
CATHOLIC RELIGIOUS METAL, AND CHIPPEWA NATION NATIVE SONS AWARD
FOR EAGLE SPIRIT
HONORED GUEST: BOY SCOUTS OF AMERICA, CENTRAL FLORIDA COUNCIL, TUSCARORA DISTRICT: CHAIRMAN CHARLES PAIVA, COMMISSIONER JOHN HOWELL, EXECUTIVE NANCY FREEMAN, ADVANCEMENT GERY MILLS, CHAPLAIN ANDREW WARD, EAGLE SCOUTS: BRANDON M. BELLAND, CHRISTIAN J. BELLAND, GEOFFREY P. BELLAND, JOSEPH F. BELLAND, JOHN FINK, JUSTIN JACKSON, AMERICAN LEGION Post 127 PAST COMMANDER, DISTRICT 17 C.O.R. & FIRST SCOUTMASTER PAUL E. CARTIER, SR TROOP 599, DAN YOUNG, EAGLE SCOUT & ASSISTANT SCOUTMASTER TROOP599, TROOP 590: COMMITTEE CHAIRMAN JOHN EDWARDS, ADVANCEMENT KELLY BIXLER, SCOUTMASTER JIM CONNELL, ASSISTANT SCOUTMASTER DENNIS BIXLER, EAGLE SCOUT PARENTS MARY JANE BELLAND AND FRANK BELLAND, MARYANN COURSON, CITY OF DEBARY, CITY MANAGER, AMERICAN POST 127: JOSEPH REACH EXECUTIVE BOARD & FIRST VICE PRESIDENT, MARTIN ROTKER NEWSLETTER, CHARLES SHORT, C.O.R., BSA SILVER AWARD RECIPIENT.
PICTURE CREDITS: MARTIN ROTKER, AMERICAN LEGION POST 127
AND SARAH SCOFIELD.
FRANK BELLAND
AMERICAN LEGION POST 127
&
BOY SCOUT TROOP 590
LAKE HELEN FLORIDA